UVPhotoMAX Signature Series

Kill airborne bacteria & viruses and reduce odors for cleaner indoor air.
The UVPhotoMAX Signature Series takes Photocatalytic Oxidation (PCO) air purification to a new level of convenience and effectiveness.
Ultravation's Signature Series advanced oxidation air purification system is a compact but very powerful whole house air purifier that operates conveniently on 24-240 VAC Smart-Power. Most importantly, the Signature Series is a second generation design that achieves a state-of-the-art level of airborne germ killing and odor reduction capability.
Installs in your HVAC system for whole house effectiveness
No fans or motors for 100% silent operation
Germicidal UV kills airborne bacteria and viruses as they pass through your HVAC ductwork
ReFresh™ patented Advanced Oxidation System eliminates common household odors. See odor list - click here
Smart-Power system is microprocessor controlled / monitored to optimize performance and remind when lamps need to be replaced
24 VAC operation, SS-PTX-1224 model
120-240 VAC operation, power cord included, SS-PTX-1200 model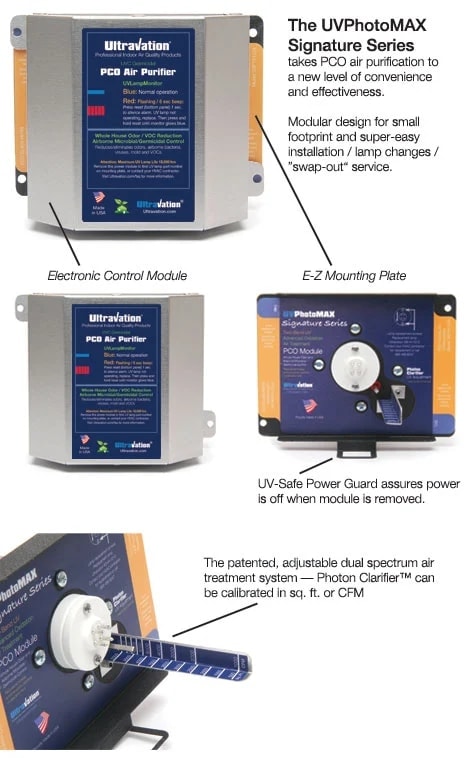 Ultravation® ReFresh™ Air Purifying Process
The ReFresh™ purification process is a system we developed for commercial applications and patented in 2004*. Utilizing a proprietary formula, the Ultravation® ReFresh™ air purifying process brings the science of nanotechnology into indoor air quality improvement. Titanium Dioxide (TiO2) is used to promote an ionic discharge from the UVPhotoMAX™ metal oxidation chamber. The advanced oxidation process is powered by our specially designed two-band UV lamp and controlled by our patented*** Photon Clarifier™. The exact amount of treatment is adjustable based on living space, temperature, humidity, and other factors. This high-efficiency germicidal system produces plasma wavelength energy in the key bandwidths of 185 nanometer (NM) and 254NM. It operates on a molecular scale, creating an oxidation process that quickly reduces or eliminates even the most stubborn odors, as well as killing millions of airborne pathogens including common viral flu strains, bacteria and mold spores.
Features:
Patented adjustability up to 5000 sq. ft. coverage
Premium 304 Stainless Steel Cabinet
UVLampMonitor Microprocessor Control
High speed electronic power supply
Enhanced PCO performance
Directly Powers Remote
Lifetime system warranty
Two-year rated lamp life