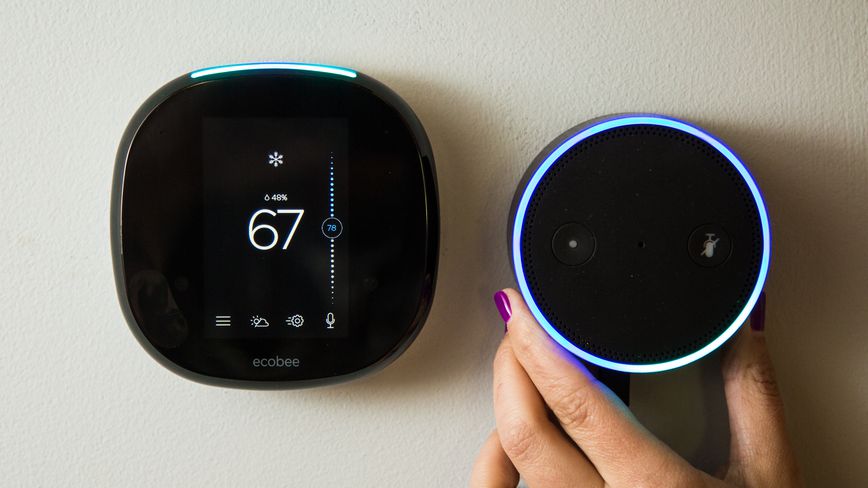 Live comfortably, save automatically.
Experience enhanced comfort, increased savings, and advanced control with SmartThermostat with voice control and included SmartSensor ($50 value).
Save up to 26%* on annual energy costs
Included SmartSensor extends comfort to your most important rooms
Comes with Siri† and Alexa Built-in for hands-free control, your way
ENERGY STAR® certified
Control from anywhere with your iOS or Android device
SmartSensor included for enhanced comfort.
SmartSensor keeps you comfortable where you are, not just where your thermostat is. Simply place SmartSensor in the bedroom, office, or child's room for total comfort and control.
Occupancy detection manages temperature automatically.
Helps balance your home's temperature.
Control straight from the app or your smart home assistant.
eco makes saving energy automatic.
Our next-generation thermostat software adapts to your household schedule for enhanced comfort and more energy savings.
Reduces strain on the electricity grid.¹
Automatically heats or cools when electricity is cheaper and cleaner.‡
Learns your routine and recommends changes to your thermostat schedule.
Adjusts for comfort in high and low humidity.
‡ Based on a study conducted by a third-party expert during summer 2020 across the US and Canada, in jurisdictions where time-of-use pricing is in effect, ecobee smart thermostat owners with the eco+ Time of Use feature enabled saved up to 26% cooling costs. Savings vary by season, climate zone, and rate structure.
1 Where applicable.